It's been said that we're most likely to be in an auto accident when we're close to home. We're less attentive. One day recently, I'd just gotten back to Whidbey after a medical appointment on what some people call "the other side." I was listening to an audio book as I maneuvered my car through Langley's block-long business district to pick up my mail before going home. As I pulled into a place in the Post Office parking lot, I noticed that a police car, lit up like a Christmas tree, was coming to a stop right behind me. Something must have just happened! I opened my car door, swung my feet around, and heard a commanding male voice roar—he seemed to be yelling!—"Do not get out of your car!" My goodness! Was this about me?
Yes, it was.
I sat back on the seat, my legs still sticking out the open door while a red-faced policeman strode toward me. "Are you aware that you just ran two stop signs?" he asked me.
I looked at him blankly. Could I have done that?
"You didn't even look around," he said. "I was standing right there, waving at you to stop, and you didn't even see me!"
No, indeed. I had not seen him. I didn't argue with the man. What I told him is that almost three years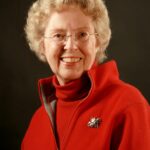 ago one of my closest friends, Yvonne Palka, was killed when she was hit by a car while crossing a street—not in Langley, but it could have been. It could have happened anywhere. A moment's inattention, that's all it takes.
That very evening, I attended a presentation at the Unitarian Church by Johnny Palka, Yvonne's bereaved husband, and their two daughters, Rachel and Tanya, both of whom have children of their own. Shortly after Yvonne's death, the three of them were approached by the public prosecutor in Minneapolis, where this tragic accident happened, and asked if they wanted it to be treated as a crime. In other words, did they want the driver to be tried in a court of law on a charge of vehicular homicide.
"We said no," Johnny explained that night at the church. "It was already a tragedy that one person's life was ended, and it would be an even greater tragedy for still another person's life to be ended—or ruined—as well." Then he added, "It is not what Yvonne would have wanted."
What happened instead is that this family and the driver to whom they were now linked embarked on a process known as Restorative Justice—a structured and counselor-led series of lengthy discussions, explorations, and contemplations to ascertain the harm that had been caused, any ways this harm could be repaired, and how the repair might be put into place. This is why the process is called "restorative." What we usually do in our courts comes under the word "punitive"; we think of it as retribution. As a Restorative Justice pamphlet says of the US court system, "We look at what has been done, who did it, and what punishment they deserve."
"I think what made a big difference to me," one of Yvonne's daughters, Tanya Thomas, said, "is when I realized that the driver of this car was nineteen or twenty—the same age as one of my own children."
"And she took total responsibility for what happened," her sister, Rachel Lochtefeld, added. "There was never any hint that she felt this was anything but her fault."
The driver was a part of the church presentation, participating by Zoom from Minneapolis with two Restorative Justice counselors. There was, as well, a video on the process the whole group went through. So, the accident took place almost three years ago, the video was recorded about a year and a half ago, and this presentation was held in the last couple of weeks. The reason I'm being precise about the timing is that I was gob smacked by the change I perceived in the driver—from the shy, restrained individual interviewed for the video to the radiant young woman I saw on Zoom. Someone speaking straight from the heart. Someone so open and tender that she moved a roomful of complete strangers fifteen hundred miles away, many of us to tears.
"Of course, I never knew Yvonne," she said, "but I feel I know so much about her from her family…. The first time I met them, afterward my friend and I couldn't stop talking about how close they were. I've never seen a family that was so together."
Participating in programs like this one is part of the service this young woman is offering—making the point that inattention behind the wheel of a vehicle can bring heartbreaking loss of life.
It certainly came across to me. After that presentation and the policeman's personal message in the Langley Post Office parking lot—delivered in his booming voice and punctuated by the pulsing lights of his official car—I have been driving with the care and consciousness that driving truly deserves.
I just keep reminding myself that I could have been the one to kill Yvonne. It could have been me. As someone shared near the end of the program at the Unitarian Church, "It could have been any one of us."
For anyone on Whidbey Island who would like to further explore Restorative Justice locally, you can contact the man who was host of church presentation: Tom Ewell, at