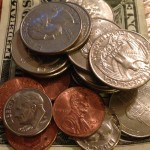 So many people send me opportunities to make and save money. I have to remind myself: what's great in life has no price tag, but nothing—no thing—is ever free. Like the message I received from the credit union that holds the loan on my car. They'll give me $150 if I refinance my loan. It sounds good. I'm sure they'd lower my monthly payments. But what would they charge me in added interest over the course of the loan? Much more than $150!
Recently I had an intriguing offer from the car company as well. They're offering to take my 2011 model on trade for a 2014 model—with no money down and no change in the monthly payments. Of course, I would end up making those monthly payments for a lot longer. If I did this every few years, I could pay them forever.
And invitations to change my insurance come almost daily. Everyone knows about insurance companies. They're lovely to deal with while you're signing up or sending them money. When, however, an event in your life might require them to send you money, the honeymoon is over. That's when you find out the true nature of your relationship—have you aligned yourself with a company you can trust or with the corporate equivalent of Bluebeard?
When I made my recent life transition and was in the market for medical insurance for the first time ever—I'd always had an employer-based plan—I did something truly foolish. A friend told me that if I joined this particular organization, the group would provide me with medical insurance, and because of the large numbers involved, the price would be half the market rate.
I called and talked with a representative, a charming woman who told me she'd signed up for this insurance herself—and weren't we both clever for finding insurance so inexpensively! I loved that insurance—until I fell, broke my left arm, took an ambulance to the nearest hospital for an X-ray, and learned that I needed surgery.
The medical drama was over in about six weeks; my negotiations, machinations, frustrations, and, ultimately, condemnations involving the insurance company went on for years
Initially, there were issues about the medical procedure itself: the insurance would cover my surgeon and the surgical facility but not the anesthesiologist employed by that facility. (They had the anesthesiologist's name but at another address. "They have to match perfectly what's on our list," a polite voice on the telephone told me: "both the name and the address.") The insurance would pay for a pin to be put into my elbow but not the medical apparatus the surgeon recommended.
I did have the surgery I needed and, yes, I was anesthetized. Then I dealt with the insurance company.
I would have a clear, focused, friendly conversation on the phone with one of the company's representatives, a woman named, say, Shawnee. I would take careful notes, fax Shawnee the paperwork she said she needed, and feel that everything was taken care of. Nothing would happen. Months later, I would call and be told that Shawnee no longer worked at the company, no one there had a record of my fax—and I needed to send them certain paperwork before anything could happen at their end. I went through this a couple of times, and then by chance heard the company's personnel listed in a voicemail recording: one of the names was Shawnee. How many Shawnees could there be?
It was two years after the original accident that the company sent the final payment: $500 for the ambulance—a fee I had long since paid myself. In that time, the company had changed its name twice and, more importantly, I had changed my insurance.
Now, I sign up only with an insurance company recommended by a friend—a friend who has collected from that very company. I figure it's common sense. And when I hear complaints about Obamacare, I remember what medical insurance was like for me before the passage of the Affordable Healthcare Act.